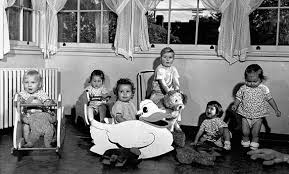 I hate the word "normal."  Unless it is being used to describe temperature, rainfall, or a setting on your appliances, it can be a very frustrating and sometimes insulting way to describe a person or a situation.  Who gets to decide what's "normal" in society?  There was a time when it was considered "normal" to have a large family.  Years ago it wasn't unusual at all to have six or more children in a family and in fact it was considered a blessing and at times a status symbol.  In fact it was considered strange if you didn't have lots of children.  Fast forward to today…..by the third child you start to get raised eyebrows and unwanted remarks.  My personal favorite is the always popular, "You do know how this keeps happening don't you?"  Hilarious…..just once I'd like to respond with a perfectly straight face, "No, but could you please tell me because I'd sure like to figure this mystery out." If you have more than three children the assumptions are usually as follows:
1.)  You own a farm.
2.) You are having lots of children for religious reasons.
3.)  You are trying for a specific gender.
4.)  You are trying to get your own reality tv show…..
Here's the thing, there are some people, apparently not the "normal" ones, who actually want a large family.  Some of us love the chaos and insanity that comes with having extra little people running around our homes like amazing little maniacs.  We love the fact that dinner will be a crowded table with lots of voices either sharing bits and pieces of their days, telling fart jokes or fighting over the last roll.  We love that there will never be a clean towel left, the laundry will never be done, someone will always be missing a shoe or a homework assignment because someone else put it somewhere "safe" and that when anything gets broken, it will collectively be no one's fault because there really is safety in numbers.  We love that our many children will always have each other in this life, and even though they regularly try to kill each other off at home, heaven help the kid on the playground who dares to mess with one of them.  We love that the bathroom will never be free, we won't sleep for years, and those moments when we peek into a room unseen and witness our older child helping a younger sibling learn to read, or simply giving them comfort after a hard day.  It is truly magical.  So call us crazy, but we love it.  Will we complain about it, blog about it and sometimes lose our minds over it?  Of course.  But we would not have it any other way.  So, for those of you wondering if you are one of us crazy ones who have a larger than "normal" family here is a checklist:
1.)  When grocery shopping, if a product is marked as "Family Sized" it means that you need two, possibly three of them.  Also, at some point in time you have had a cashier look at your cart and ask if you work in a group home…..
2.) Your grocery bill is often more than your mortgage payment.
3.)  You feel like you run a 24 hour diner, with rude guests who refuse to tip and often complain about the service.
4.)  You own a mini van and you still need one of those storage things for the roof, and your spouse drives a second vehicle if you all go away on a family vacation.  This is because of a lack of space and not because your spouse doesn't want to drive with all of you….although I would suggest you make him take the one who gets motion sick….just saying….
5.)  If, like myself you do not live in a mansion, your bathroom will require the use of a finely tuned and closely monitored schedule to keep everyone clean and avoid world war three.  You also wash at least two loads of towels a day, constantly question if anyone uses any of the toothbrushes in the pile on the sink, and keep the folks at Lysol in business dealing with toilets….
6.)  You are always playing referee to such arguments as, "That's my spot!"  "That's my cup!" "That's my shirt!"  "Those are my snow pants!"  Etc…..
7.)  You live with what feels like a small village of people and yet no one ever knows how anything got broken or who put the empty carton of milk back in the fridge.
8.)  There is always an empty carton of milk in your fridge.
9.)  You never sleep because someone is ALWAYS awake.  I am pretty sure they take shifts.
10.) Keeping track of everyone's doctor's appointments, after school activities and homework assignments is like some sort of marathon in your house.  This should really be considered for an Olympic sport and the time management gurus come to you for help.
11.)  Getting everyone to school on time fully clothed, with their lunches and both shoes should also be considered an Olympic sport in your home.  I'm deadly serious about this.  I've written letters to the folks at the Olympics….they think I'm joking….I'm not.
12.)  You haven't spoken to your husband since the fourth child came along, but you are pretty sure he's the guy with the beard that shows up around dinnertime to eat at your 24 hour diner…he also doesn't tip.
13.)  And last but not least, even though your life is utter chaos,  your house is a disaster, you don't eat, sleep or shower and your account balance regularly hits 0, you know that one day they will all move on and have their own lives.  Suddenly, as quickly as it all began it will be over.  Your house will fall silent.  And that very thought breaks your heart into a thousand pieces.  So you will take a breath, pour some wine, and savor every last minute of it all.  Because you simply wouldn't trade any of it for the world.