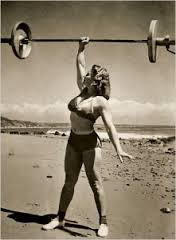 If you have small children, you likely spend a great deal of your day outside, which is wonderful.  Unless of course, it is Winter and you are experiencing some of the coldest temperatures on record since the last ice age.  For so much of this Winter I simply have not been able to get outside with the littlest members of our crew.  This has led to me question why we did not have a wine cellar built in the basement instead of a laundry room, and also desperately feeling in need of some exercise.  Now, exercise and small children seem like they should go hand in hand….but they don't.  Not actual, real exercise.  Have you ever gone for a "walk" with a toddler?  Earlier this week the temperature finally crept high enough that with the sun shining away I was able to bundle up the two and a half year old, pile blankets on the one year old in the stroller and GO OUTSIDE!!!! Oh glorious day!!!! I would finally be able to stretch my legs and save my sanity.  I suggested to my little man that we go for a walk….we made it to the neighbor's driveway….at that point he made a lovely snow angel for the neighbors on their front lawn, returned their recycling bin to their garage (even though ours are apparently just fine to leave in our ditch until next recycling day) and then the garbage truck came.  Oh, and a plane flew over.  This all took nearly an hour, at which point we needed to make the strenuous hike back home, one driveway over, to go inside and warm up.  Sigh…..
Rather than suggesting to a toddler that you should go for a walk, some more appropriate suggestions would be the following:
1.) Let's go sit on the side of the road and look at a rock you find fascinating.
2.)  Let's go draw masterpieces in the dirt with sticks and then spend an hour arguing with me over why I won't let you run with those sticks.
3.)  Let's go sit on the side of the road and wave at cars.
4.)  Let's go outside and point at birds.
5.)  Let's go outside, walk about five doors down thus giving mommy false hope, and then throw yourself on the ground having a massive tantrum because I won't let you put a caterpillar in your pocket.
And there are always those folks that will very helpfully suggest that you simply make junior ride in the stroller…..um ya, thanks.  I hadn't thought of that.  That may work occasionally, but once your little darling finds their feet and realizes they can use those amazing things to "gasp" RUN, good luck convincing them to sit, and ride in something resembling their car seat….which they also hate.
Don't get me wrong.  I love seeing the world through the eyes of my children.  Having the opportunity to experience nature as magical and awe inspiring again, is truly beautiful.  However, sometimes mama wants to work on her muffin top!!!!!!
So, I devised a plan.  My wonderful mother in law gave me her elliptical machine and my wonderful husband hauled it into our basement.  I was on a mission.  I would hop on it and work out for about four minutes at least three times a day.  Four minutes was the amount of time I felt I could safely leave the munchkins to play.  Sounds doable right?  At first I used the dryer timer….since there is usually laundry in it that needs to be fluffed, it made sense.  But staring at the heat ducts and listening to the dryer going was really boring so I upgraded my fancy home gym to allow for the use of my cell phone and whichever song I could find on You Tube that I felt would rev me up…Unfortunately, if listening to music, it is hard to discern which sounds from the floor above are bad sounds or good sounds…are the kids playing or staging a coup?  Is it fun, sing along time or Lord of the Flies? Also, have you ever tried to leave the room to do ANYTHING for longer than 30 seconds without disaster striking?  Or this lovely chorus following you?  "Mommy!!! MOOOOOOOOOOOOOOMMMMMMMMYYYYYYYYYY!!!!!! Mom? Mommy where are you?  I come?  Mommy I come?  I help? Mommy I come help?  Mommy I come help you? MOOOOOOOOMMMMMMMMYYYYYYYYY!!!!!! I hungry."  Put this little ditty on repeat and I don't care what song you are trying to listen to, it is not going to drown it out, and after less than two minutes your increased stress level is doing battle with whatever health benefits you might be achieving from your increased heart rate.
So, I have decided to cut myself some slack….running up and down the basement stairs to retrieve laundry is technically cardio, driving dinky cars around the floor is basically yoga, and bathing multiple children in a day is now classified as water aerobics….the muffin top will have to be dealt with when they are all in University.