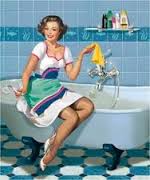 9.) Bathrooms:
This is an area that I thought I was prepared for….the trouble with bathrooms is that the level of issues simply change with the changing ages of the children in the home. So, there are always any number of things to push you over the brink. Wet towels are a constant. Mountains of wet towels. I don't know why one preteen needs four towels for every shower, but apparently they do. I also wonder if my big kids are running a secret dog grooming service that I am unaware of. The amount of hair left behind when they finish in there is terrifying. For some reason, whenever hands are washed (if hands are washed) some sort of flood happens and the area surrounding the sink looks like something out of natural disaster footage on the 6 o'clock news. Oh, and someone will always place a full roll of toilet paper directly in the flood waters. This means that the next time you reach for some, you will be met with a lovely pile of mush. Potions will be made out of half full bottles of shampoo, sculptures will be carved out of bars of soap and no matter how much you beg, plead and threaten, things that should be in the toilet will be found on the outside of the toilet and things that should not be in the toilet will regularily be a cause for some emergency amateur plumbing. And it won't matter how often you clean that bathroom. Within two minutes of you leaving triumphantly with your cleaning supplies in hand, that room will look like the nasty truck stop bathrooms you once refused to use.

10.) Car trips:
This may be the only other area of parenting that can rival the family portrait for causing a typically mild mannered parent to completely and absolutely lose their mind. Family trips always seem like such a wonderful idea. Until you actually set foot in the car. If you already have children, and those children travel well, you are my hero. My children do not….at all…even a little. There is a brief window of time when your infant sleeps peacefully in a car seat while you embark on a six hour road trip with the occasional nursing stop. When this period ends, so does life as you know it in a car. There are an assortment of travel types. The barfer, the crier, the "are we there yet?" and the kid who is always sooooooooooooo bored. Someone will always be hungry, thirsty, nauseous, or need to pee. No amount of pre-planning, snack packing, gravol dosing or activity providing, will prevent any of this. At some point in the trip a fight will break out in the back of the mini-van that will rival that of a professional cage match, someone will spill something that won't be found until it starts to smell, and a diaper blow-out will leave you on the side of the highway trying desperately to clean up and air out. By the hundreth "are we there yet?" your husband will ask that you book the van in to have privacy glass installed behind the front seats. The memories made once you arrive at your destination will make this hell on wheels all worth it, but when heading out, maybe dose yourself with some gravol, and perhaps invest in some ear plugs.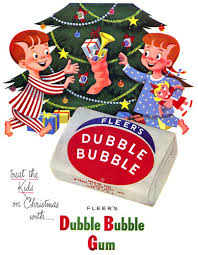 11.) Gum:
Kids LOVE gum!!!!! In our house it has always been a rite of passage.  A sign that one has now matured enough to be trusted with not swallowing this mouthful of chewy joy.  But not swallowing gum is merely the tip of the ice berg in gum induced insanity. Somehow the gum rarely stays in the child's mouth.  I don't know how but they seem to manage to leave chewed gum everywhere.  Under the couch in the rec room, by the bathtub,  on nightstands, beside the garbage can but not actually in the garbage, in hair, on clothes and on the floor of the minivan…..My husband outlawed gum in the van after this discovery in what we now refer to as "The Great Gum Prohibition of 2014".  However the ban was lifted when he recalled the few minutes of silence that could be purchased when offering gum on those fateful road trips.  Parents are shameless back trackers and hypocrites when it comes to trying not to lose their minds.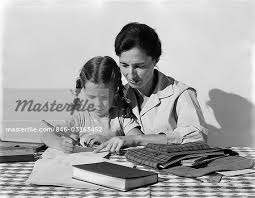 12.) Homework:
Have you done any grade four math lately? Open some wine and brace yourself when that time rolls around.   How about a family tree when every single person in the tree has been divorced and remarried more than once? Did I mention you are also required to give this project pizazz and it's grade two, so you need to find a way to explain why there are so many folks on the tree without paying for a lifetime of therapy?   Or, my personal favorite, the research project on the Canadian Beaver?  When your turn comes I have two of those Beaver projects in my basement.  Just let me know….it will cost you a bottle of wine.