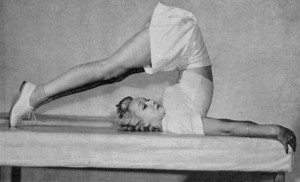 Other than a healthy baby, is there anything that concerns a pregnant woman more than wondering, "Will I ever get my body back?"
The answer is no.  At least not the way it was before you became pregnant.  You cannot grow a human being for nine months, go through labour and push something so big out of an area that is so small and expect to have the exact same body that you started with.  Seriously…you will have some stretch marks, or some extra weight, or perhaps your feet will be a size larger and your rings will be tighter.  You may find that your boobs, hips, any number of body parts don't appear to be in the same spot they were before….and you know what?  THAT'S OK.  Really!  It is!  It's perfectly normal and we all need to just calm the hell down and give ourselves a break.
Nothing makes me more crazy than these front page stories about movie stars that are showing off their amazing "post baby bodies after only six weeks"!  "Learn how they did it", the ads scream at us while we stand in line to buy diapers with a crying baby, in our sweat pants and a pony tail unable to remember the last time we showered.  So we buy the magazine.  Desperate for a miracle.  And we read about the special foods she ate and the exercises she did and we wonder why we can't get our s&*% together.  Well, can you afford a nanny, a personal trainer, a home gym, a personal chef and a nutritionist?  You can't?  Neither can I.  That's why.  And again, THAT'S OK.
And yes, there are those women who appear to walk out of the delivery room looking even better than they did before they peed on the damn stick, but I am 100% certain those people are robots.  Fitness clubs are paying some government agency to build them, and place them into society as pregnant women to force us all to run out and buy gym memberships the second we realize our pre-pregnancy jeans don't fit us anymore.  I haven't been able to prove it yet, but I will…oh I will.
Body image is a struggle for many of us from start to finish, and I am certainly not going to pretend that I have found the magical solution to feeling completely comfortable in my own skin, but I'm working on it.  I have had four babies and the one thing I have learned about this topic is that we have our entire lives to worry about how we look.  What we don't have, is all the time in the world with our precious babies.  They grow.  They grow really, really fast.  One second you are smelling the top of your precious newborn's head, dreaming about who they will be and feeling your heart swell with joy and the next second you are watching your thirteen year old head off to a grade eight dance…it happens in a heart beat.  And you can't get it back.
So don't waste a second of that precious fleeting time worrying about how you don't stack up to the model on the front page of the magazine, or the neighbor who strapped her baby on her back on ran a marathon two hours after giving birth, or the robot walking out of the delivery room looking like someone else had her baby.  Don't do it.  Take a deep breath of that amazing newborn smell and let it go.  Then have a cupcake…because you know what?  THAT'S OK.